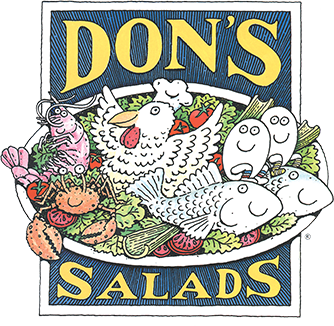 Amish Macaroni Salad
Elbow macaroni enveloped in a sweet creamy mustard dressing with celery, peppers, carrots, egg and onions.
Amish Potato Salad
Potatoes, hard cooked eggs, red peppers, celery and onions all enveloped in a sweet mustard dressing.
Beet & Onion
Beets & Onions bathed in a Vinegar Dressing.
Bruschetta
Fresh, diced tomatoes, chopped basil, red onions, garlic & vinaigrette.
Carrot & Raisin Salad
Plump juicy raisins and pineapple tossed with fresh shredded carrots, real mayonnaise and spices.
Cole Slaw
Shredded cabbage & carrots in real mayonnaise.
Egg Potato Salad
Diced firm, freshly cooked potatoes blended with farm fresh eggs, real mayonnaise and spices.
Macaroni Salad
Al dente cooked elbow macaroni, carrots, red & green peppers, celery & celery seed mixed with real mayonnaise & seasonings.
Marinated Mushroom Salad
Fresh whole button mushrooms, red and green pepper strips, sliced black olives and herbs marinated in a tangy golden Italian dressing.
Oil & Vinegar Cole Slaw
Shredded Cabbage mixed with Oil & Vinegar.
Picnic Potato Salad
Chunks of redskin potatoes mixed with eggs, celery and onion in a creamy dressing.
Potato Salad
Diced, freshly cooked firm potatoes, red & green peppers, onions and celery seed blended with real mayonnaise and spices.
Red Potato Salad
Diced red potatoes in a creamy dressing of fresh garlic, real mayonnaise and seasonings.
Triple Potato Salad
A unique combination of red skin potatoes, sweet potatoes and white potatoes blended with fresh onions, herbs and spices to create a chunky mashed potato textured side dish.