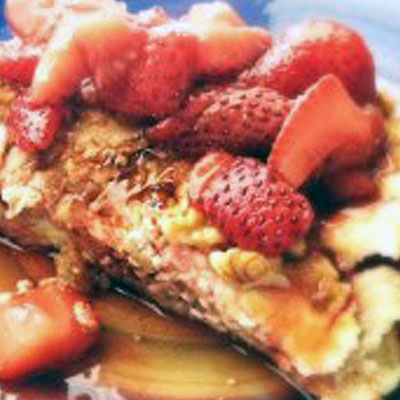 Overnight Baked Strawberries and Cream French Toast
Prep time: 15 mins
Cook time: 45 mins
Total time: 1 hour
A decadent baked French Toast made with Don's Clean Strawberry Cream Cheese. Make it the night before and bake it the next morning. Perfect for a weekend family brunch!
Author: Don's Salads
Recipe type: Brunch, Breakfast
Serves: 8
Ingredients
1 loaf of Challah or crispy French bread (at least 1 day old is best)
7 large eggs
2 cups light cream
1 cup skim or milk of choice (almond milk works great)
2 tablespoons brown sugar
1 tablespoon pumpkin pie spice
1 heaping teaspoon vanilla
⅔ cup Don's Strawberry Cream Cheese
¼ cup chopped walnuts
3 tablespoons brown sugar
¼ teaspoon sea salt
Instructions
Coat a 3 quart baking dish with non-stick cooking spray. Cut bread into slices (about ¼ inch think) then cut into bite size squares or pieces. Layer bread in the greased pan (until all the bread has been used.
In a large bowl whisk together the eggs, cream, milk, vanilla, sugar, salt and pumpkin pie spice. Pour mixture over the bread to evenly coat. Sprinkle with additional pumpkin pie spice and cover with foil or plastic wrap. Chill overnight or for at least 8 hours.
Once mixture has chilled for at least 8 hours, removed from fridge. Preheat oven to 350F. Spread Don's Strawberry Cream Cheese over the top of the mixture.
Sprinkle chopped walnuts and brown sugar over the cream cheese.
Bake for 40 – 45 minutes, or until the mixture is heated through completely and the cheese is slightly browned.
While French toast cools, prepare syrup by bringing the sugar and water to a rapid boil, stirring constantly. Add in mashed strawberries, reduce heat and let simmer for about 10 minutes, or until mixture has thickened.
Slice and coat eat piece generously with syrup. Enjoy!