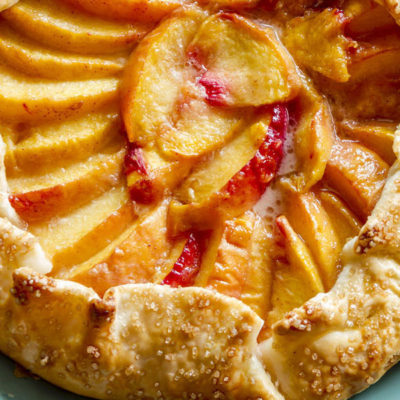 Summer Peach Galette
A sugary sweet and unique take on a classic American desert. You'll find this cheesecake recipe is packed with healthy peaches and home-baked goodness. You can't make "cheese" cake without our Melanies Medleys Cream Cheese.
Ingredients
For the dough:
• 1 3/4 cups all-purpose flour
• 2 tablespoons granulated sugar
• 1 teaspoon apple cider vinegar
• Pinch of kosher salt
• 1 stick cold unsalted butter, diced
• 1 large egg
• Cooking spray
For the filling:
• 2 cups sliced peaches
• 1/3 cup plus 2 tablespoons granulated sugar
• 1 tablespoon fresh lemon juice
• 4 teaspoons cornstarch
• Pinch of salt
• 8 oz. Melanie's Medleys plain cream cheese
• 1 large egg, beaten, plus 1 egg yolk
• Pinch of nutmeg
• Coarse sugar, for sprinkling
Directions
Make the dough: Pulse the flour, granulated sugar, vinegar and salt in a food processor until combined. Add the butter and pulse until the mixture looks like coarse meal with pebble sized pieces of butter. Whisk the egg with 2 tablespoons water; add to the food processor and pulse until a dough just starts to form. Turn out onto a piece of plastic wrap; shape into a disk, wrap tightly and refrigerate until firm, at least 1 hour.
Spray baking sheet with cooking spray. Roll out the dough into a 12-inch round between 2 sheets of floured parchment paper. Remove the top piece of parchment and invert the dough onto the prepared baking sheet; remove the other piece of parchment. Refrigerate until ready to assemble.
Make the filling: Mix peaches, 1/3 cup granulated sugar, lemon juice, cornstarch and salt in a bowl. Whisk the cream cheese, egg yolk, the remaining 2 tablespoons granulated sugar and the nutmeg in a separate bowl.
Spread half of the cream cheese mixture over the dough, leaving a 2-inch border. Top with the peaches. Fold the edge of the dough over the filling. Drizzle the remaining cream cheese mixture over the berries; refrigerate 30 minutes.
Put a baking sheet in the lower third of the oven and preheat to 425 degrees F. Brush the crust with the egg wash and sprinkle with coarse sugar. Put the baking sheet with the galette directly on the hot baking sheet in the oven. Bake until the crust is golden, 20 to 25 minutes. Let cool slightly before slicing.